Picture this. I was watching The Devil Wears Prada at 1 AM, alone, with PowerDVD without subtitles. I was listening through headphones so if you were around you wouldn't hear any words from the "chick flick" I was concentrating on. I know. That's a little bit funny. But funnier yet, I was laughing so hard by myself. The fact I was watching the film after midnight can't stop me from laughing so hard, especially at the part when Andy outwitted the Devil during the impossible Harry Potter manuscript search.
The movie is mainly comic, but in a classy way. It is a based on Lauren Weisberger's roman à clef and chick-lit novel of "a naive young woman in New York scoring a job as an assistant to one of the city's biggest magazine editors, the ruthless and cynical Miranda Priestly."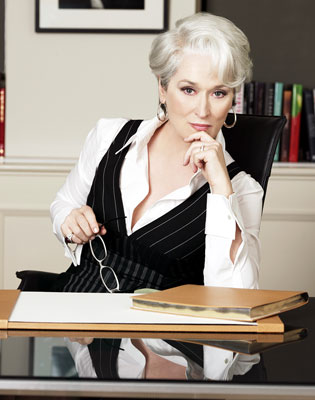 Miranda Priestly is the most beautiful and elegant form of evil ever seen in the movies. I couldn't see any other actress of Meryl Streep's caliber that could possibly pull a Miranda off, without being a total bitch and nothing else. Meryl Streep did not play Miranda a total bitch. She might have been a little, just a little, bitchy but it's mainly because she should be. She's supposedly a Boss from Hell. Her rudeness is in the form of creepy sacrasm, of catty compliments, and of impossible orders. But she's not the loud, cussing boss that you could have expected. She's a more sophisticated monster. She speaks in this whispery, almost soothing, almost hushed voice, but with terrible command and definite fatality.
Even her complaints don't sound like bitching. She expresses her disappointment in form of questions: "Why is it so hard to confirm an appointment?..." Why is it so difficult to get my car?..." And yes, she doesn't require answers to most of her questions.
Miranda always, ALWAYS, says "THAT'S ALL" as if you were doing small and simple errands. Irritating, but altogether amusing. Even adorable and of course, hilarious.
Which is the strongest hold for any viewer of this smart, sexy, sophisticated chick flick: Meryl's Streep performance is stellar, original and just plainly best. She deserves another Oscar and all the credit for the film. (Stanley Tucci and Emily Blunt are in their best acts too, but sorry guys, it's Streep's solo today, maybe tomorrow night).
Anne Hathaway is not the best casting choice, but she was not a miscast either. She still has a long way to go, for acting the part and not just looking the part. Know what I mean? At least she's so over being a Disney girl (unlike Lindsay and Hillary). Anne Hathaway's Andy is a clumsy but later courageous character. I laughed at her awkwardness since the first phone call she answered as Runway editor-in-chief's junior assistant. "How do you spell Gabana?"
But the moment Andy steps in with her Chanel boots, and after that excellent montage with virtual wardrobe change, she transforms herself into a Runway girl. She starts getting into her work and in her boss's footsteps. Fortunately, she never did. She realized in the end she did not want to become Miranda. She walked away.
The Devil Wears Prada might or might not be a realistic portrayal of the industry, but I think it is a truthful presentation of the brutality and necessary rush of the fashion/advertising/glamour/glossy magazine business. Beauty is skin deep and expensive.
If you don't like chick flicks, or movies about skinny models and overpriced clothes (by the way, this is the most expensively costumed movie of all time), at least watch it because of Meryl Streep's version of the Devil. You will not be scared, but stunned. Beware of Hell on Heels.